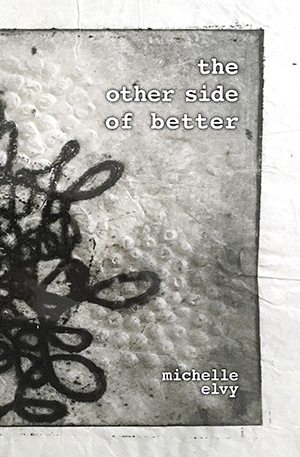 Fresh: yes! Authentic: yes! Poetic: yes! Brilliant: yes!! Here, with Michelle Elvy's the other side of better, are wise reflections cast through refracted light. Here is the scent of the sea, the rift and grit of childhood. Here is an absorbing cinematic poetry in the telling – breathtakingly honest and elegant stories (personal, yet universal) about how we live, how we struggle and, most enduringly, how we thrive. A wondrous collection!
~ Robert Scotellaro, author of What Are the Chances?; co-editor of New Micro: Exceptionally Short Fiction
Well-turned stories, rich with wit and detail, that explore the spaces between people and places, from the 'concrete weight' of history to the secrets of creeks, islands and oceans
~ Paula Morris, author of False River and co-author of Shining Land: Looking for Robin Hyde
Michelle Elvy needs no more than this, the smallest white spaces in which to swim the waters between story and poem with humour, colour, imagination and a sharp grace. Elvy watches and listens to her characters, and the places they dance in, bringing us the darkly joyous truth of life's uncertainties and love's ambiguities.
~ Tania Hershman, author of and what if we were all allowed to disappear and How High Did She Fly?
The poems and stories in the other side of better hopscotch gingerly between wanderlust and rootedness, desire and exhaustion, memories of reality and dreams of the impossible. This is how Elvy gets you, by luring you in with one wonder and then giving you another. And the trick is never the same twice. This is a collection that surprises not just because it can, but because it understands the surprises of the world.
~ Erik Kennedy, author of There's No Place Like the Internet in Springtime
Modern, humane and pacy… the other side of better is a gorgeous collection about love, the environment, and the things that make people devour and deify each other.
~ Nuala O'Connor, author of NORA, Mother America and The Juno Charm
To read Elvy's work is to move closer to discovery – is to find a larger view of possibility.
~ Sam Rasnake, author of World within the World and Cinema Verité
These unique stories of love and dreams and oceanic epiphanies could only come alive at the hand of Michelle Elvy. It is a delight to see how she plays with the form and bends it to her will.
~ Kathy Fish, author of Wild Life: Collected Works from 2003-2018
the other side of better teems with innovative, intimate adventures, each a microcosm of humanity made capacious through Michelle Elvy's sharp, unique lens.
~ Christopher Allen, Editor of SmokeLong Quarterly
Paperback ISBN 978-1-912095-02-5; 133mm x 203mm; 172pp
Release Date: 18th June 2021
Pre-orders will be shipped out a few days before the release date.
To receive a 25% pre-order discount off the cover price, please enter the code ME1805 at checkout.
£14.99 GBP