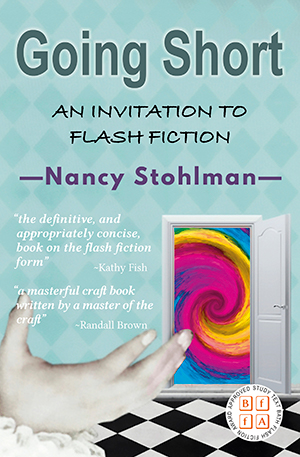 Flash fiction is changing the way we tell stories. Carving away the excess, eliminating all but the most essential, flash fiction is putting the story through a literary dehydrator, leaving the meat without the fat. And it only looks easy.
Enter Going Short: An Invitation to Flash Fiction. In this, her treatise on the form, veteran writer Nancy Stohlman takes us on a flash fiction journey: from creating, sculpting, revisioning and collecting stories to best practices for writers in any genre. It is both instructive and conversational, witty and practical, and presented in flash fiction chapters that demonstrate the form as they discuss it. If you're already a flash fiction lover, this book will be a dose of inspiration. If you teach flash fiction, you'll want it as part of your repertoire. And if you're new to the form, you might just find yourself ready to begin.
Paperback, ISBN 978-1-912095-79-7, 133mm x 203mm, 156 pages.
Released 15th October 2020.
Available for pre-order now.
Free world wide shipping.
£12.99 GBP
Pre-order the book before Oct 15 and get exclusive free access to the private Going Short Virtual Book Club with Nancy Stohlman from Oct 15-31! The Book Club will be an asynchronous (no Zoom!) gathering space moderated by Nancy to continue the conversations and share insights from the book. Get free access when you pre-order before October 15!
More here: http://nancystohlman.com/goingshort/